Ever wondered what we kids think about Christmas? Of course we want Santa to come, but maybe we want family, lovely food, songs about the baby Jesus? Nope, as far as kids are concerned, this is what Christmas is all about:
And I mean 'everything' important. There is nothing else. Shallow, aren't we?
Although, before I knew too much about presents, I did learn the Christmas story, all about the baby Jesus, the shepherds, and the kings. I proudly told Mummy and Daddy the facts, and answered their questions. Mummy asked what gifts the kings brought and I firmly announced:
Gold, myrrh, and neklsis!
Did you know that the first Christmas was also the scene of the first ever dancing sheep? It's true, it must be, because I saw them in the Bug's Nativity performance:

In all seriousness though, there is a lot of love coming out of kids at Christmas time. Generally directed towards Santa, although M&D get a share of it too – I know they have to report to Santa on my behaviour so it pays to butter them up a bit.
And of course there is the obligatory letter to the man himself, although as the Bug can't write a lot yet, Santa will have to use his initiative!
Enjoy your Christmas and if you have any interesting snippets to show me, write about them and link them up here. The linky is open all week!
Every Thursday you can link up your own #funee posts with the linky tool below. It can be on any theme you like. Steal my badge, and leave a comment after you have linked. If you're new here check out the Wot So Funee? main page then come back and join in the fun! Feel free to add any funny post you want to share. Just include a link back to this post or paste the #funee badge into your own. Then go and share the giggles!
Powered by Linky Tools
Click here to enter your link and view this Linky Tools list…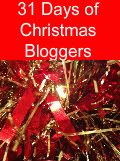 On the 15th day of Christmas Mummy stopped over at Snuggle Bubby, who she met for the first time at the Tots party. It is a fab read and a very pretty blog too!
On the 16th day of Christmas we were recommended Tis the Life, who we had read before, when she entered our Birth Story linky to tell us about Worm, but we have neglected to revisit. We rectified this immediately and now urge you to visit too (she's very Christmassy even though she is in the warmer climes of Australia!).
I am also linking this post to the fabulous Never Growing Old , Mummy Mummy Mum! and Tropical Mum.