We got back from our holidays to find this waiting for the Bug. No, not the dragon tattoo – that came from a €2 tat machine on our holiday park. I mean the belt. And it's not just any old belt either. It's a super-dooper easy to manage belt that toddlers can use. And you know what that means don't you? No more skinny boys with wet pants that couldn't get their belts undone in time! Which has to be a good thing for all the girls in the house. Now, if only we could get him and Daddy to put the seat back down we'd be laughing…
Anyway, I thought you might fancy a caption for this one?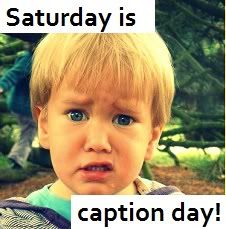 * The Bug's super-cool and easy belt came from – wait for it – EasyBelts, who sent us a free one to review.