It's been a good few weeks here, with Mummy well and truly back on the Weightwatchers plan. She's lost 9 pounds in the last 4 weeks, having had to resort to hiring a dress for the MAD's when she realised there was no way of getting into her old fave…
So our meal plan for this week really nails the ProPoints,
Monday: Mummy is loving the new WeightWatchers Oat and Wheat Crackers (4 in a pack for 2 ProPoints. Topped with some low-fat cottage cheese and tomatoes, this makes a great light lunch.
It will be a simple question of reheating a Butternut Squash and Gruyere Gratin for dinner.
Tuesday: Our vegetable box challenges us with fresh organic produce that we wouldn't necessarily buy given a choice. That's one of the reasons Mummy likes it, to make her try different things, and broaden her cooking repertoire. However, in particular seasons we tend  to get things week-in week-out. So it is with chard. Last week we had an awesome chard and ricotta pizza; then more chard arrived… So this week we are trying out a classic Spanakopita: a greek filo pastry 'pie' usually made with spinach and feta cheese, we are going to substitute the spinach with chard. We'll let you know how it goes…
Wednesday: Similarly, we get a LOT of winter squash. Great roasted as an alternative to potatoes; puréed and added to a risotto; made into a gratin; but we will be creating a simple squash risotto, with tomatoes and Weightwatchers curry paste. Our squash this week is Spaghetti squash, which might provide a challenge!
Thursday: We are trying to cut down on spending so at least one night per week involves a jacket potato and a tin of beans!
Friday: This is traditionally the night when M&D sit down with a film and a glass of wine, so something yummy is in order. This week sees the return of the very yummy, and properly Autumnal Smoky Beef Casserole – 5 ProPoints, takes 10 minutes and bubbles away in the slow-cooker wafting deliciousness around the house. I'm hoping me and the Bug may get a plate before we're packed off to bed!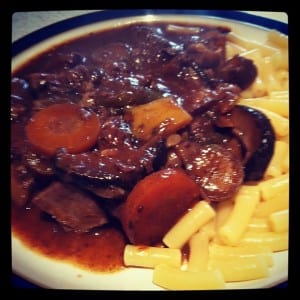 There will be snacks along the way. We have discovered WeightWatchers Jaffa Mini-Rolls; basically a chocolate-covered mini-roll with the flavour of Jaffa Cakes that we love. Mummy cannot eat one of these 2 ProPoint snacks without us demanding one for ourselves. Funnily enough we don't usually like the normal mini-rolls (too sickly) but these are perfect for an after school snack
Wish Mummy luck, she's aiming for another 2 pounds this week!